Prenatal EasyIron Extra Gentle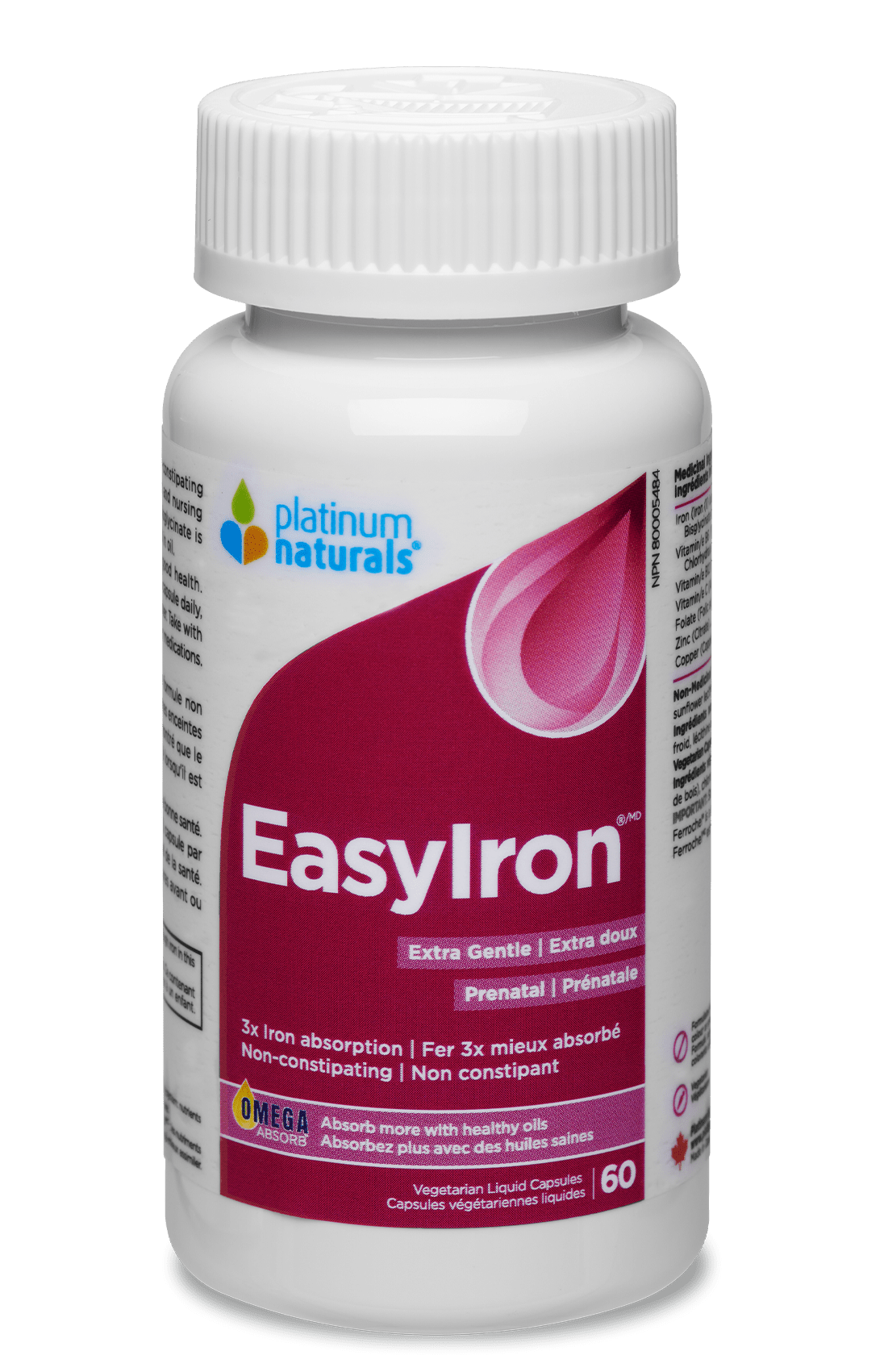 Many women complain of fatigue, decreased stamina, and reduced resistance to infection during pregnancy. The reason may be a lack of Iron. During pregnancy, your blood plasma volume increases by 50%. To support this substantial increase, your body needs a generous supply of Iron. Most pregnant women have trouble getting the Iron they need through diet alone, so a daily supplement containing 16 to 20 mg of elemental Iron is recommended.
Prenatal EasyIron Extra Gentle is made using Iron Bisglycinate, which has superior bioavailability and has shown a negligible incidence of stomach upset and constipation.
Iron that's extra-gentle
Gentle and non-constipating, Prenatal EasyIron Extra Gentle is an excellent source of Iron that's enhanced with key co-factors including Folic Acid. It's vegetarian-friendly, non-constipating, and gentle on sensitive stomachs.
Zinc, copper, B, C Vitamins
Vitamin C promotes Iron absorption, while Zinc and Copper are essential for manufacturing red blood cells. Vitamin B6 and Folic Acid help form new cells and play a role in the development of the baby's central nervous system.
Omega Absorb™
Through the power of healthy oils, our award-winning delivery system allows our bodies to absorb the nutrients it needs to improve our health and achieve our wellness goals.
VITAMIN B12
IRON BISGLYCINATE
FOLIC ACID
Check out our Best Sellers

Super Easymulti 45+ for Women
Age is just a number. Good nutrition plays an important role in feeling your best every day, as your ability to absorb nutrients may decrease over time. Super Easymulti 45+ is a complete 10-in-1 anti-aging solution formulated to help fight the effects of aging. Anti-aging Protects your heart with CoQ10 Maximize brain power Bones and immune support Promotes hormonal health Omega Absorb™ delivery system View Ingredient Table   Description A 10 in 1 Solution Our comprehensive formula is designed to give your body what it needs to thrive, offering you the convenience of 10 supplements in one convenient softgel: Multivitamin CoQ10 (heart, energy and antioxidant) Milk Thistle (liver support) Ginkgo biloba (mind and circulation) Kelp (thyroid health) Cranberry Fruit Powder (antioxidant) Grape seed extract (antioxidant) Hawthorn berries (heart) Omega 3 & 6 Borage Oil Heart health Coenzyme Q10 (CoQ10) is a potent antioxidant that is involved in energy production in the heart. It protects LDL cholesterol from oxidizing and helps lower blood pressure. By age 40, we may no longer produce enough CoQ10 to meet our daily needs. Super Easymulti 45+ for Women has 100mg of CoQ10, Omega-3 Fish Oils, and Hawthorn Berries plus a full complement of B vitamins for heart health. Brain power To maximize brain power as we age, Super Easymulti 45+ for Women has Ginkgo Biloba, CoQ10 and DHA from Omega-3 Fish Oil to improve blood flow and nutrient supply to the brain. Grape Seed Extract provides further antioxidant protection from free radicals. Liver, bones and immune support Essential nutrients such as milk thistle help to detoxify and support your liver function. Vitamin D and co-factors support your immune system and healthy bones. Omega Absorb™ Through the power of healthy oils, our award-winning delivery system allows our bodies to absorb the nutrients it needs to improve our health and achieve our wellness goals Key Ingredients COQ10 MILK THISTLE GINGKO BILOBA FISH OIL KELP CRANBERRY FRUIT POWDER BORAGE OIL GRAPE SEED EXTRACT HAWTHORN BERRIES

Super Easymulti 45+ for Men
Age is just a number. Good nutrition plays an important role in feeling your best every day, Your ability to absorb nutrients may decrease over time. Super Easymulti 45+ is a complete 10-in-1 anti-aging solution formulated to fight the effects of aging. Anti-aging Protects your heart with CoQ10 Maximize brain power Bones and immune support Promotes hormonal health Omega Absorb™ delivery system View Ingredient Table   Description A 10 in 1 SolutionOur comprehensive formula is designed to give your body what it needs to thrive, offering you the convenience of 10 supplements in one convenient softgel: Multivitamin CoQ10 (heart, energy and antioxidant) Milk Thistle (liver support) Ginkgo biloba (mind and circulation) Kelp (thyroid health) Cranberry Fruit Powder (antioxidant) Grape seed extract (antioxidant) Hawthorn berries (heart) Omega 3 & 6 Pumpkin Seed Oil Heart health Coenzyme Q10 (CoQ10) is a potent antioxidant that is involved in energy production in the heart. It protects LDL cholesterol from oxidizing and helps lower blood pressure. By age 40, we may no longer produce enough CoQ10 to meet our daily needs. Super Easymulti 45+ for Men has 100mg of CoQ10, Omega-3 Fish Oils, and Hawthorn Berries plus a full complement of B vitamins for heart health. Brain power To maximize brain power as we age, Super Easymulti 45+ for Men has Ginkgo Biloba, CoQ10 and DHA from Omega-3 Fish Oil to improve blood flow and nutrient supply to the brain. Grape Seed Extract provides further antioxidant protection from free radicals. Liver, bones and immune support Essential nutrients such as milk thistle help to detoxify and support your liver function. Vitamin D and co-factors support your immune system and healthy bones. Omega Absorb™ Through the power of healthy oils, our award-winning delivery system allows our bodies to absorb the nutrients it needs to improve our health and achieve our wellness goals. Key Ingredients COQ10 MILK THISTLE GINGKO BILOBA FISH OIL KELP CRANBERRY FRUIT SAW PALMETTO FRUIT GRAPE SEED HAWTHORN BERRIES PUMPKIN SEED OIL

activ-X for Women
Elite athlete, weekend warrior, or just on the go? Whether you train for competition or enjoy playing hard and achieving more, you need every advantage to push your body and mind to new limits. activ-X for women is scientifically developed for performance. You'll feel the increased energy as you train harder, maximize endurance and experience faster recovery. Improve energy Boost stamina Faster recovery Trusted by professional athletes Omega Absorb™ delivery system View Ingredient Table   Description "More energy" is our #1 feedback! Increase energy and stamina Much more than a multivitamin, activ-X features essential vitamins, minerals, antioxidants, omega oils and adaptogens to support hormone health and raise energy and stamina. EFA's (Essential Fatty Acids) from fish oil decrease heart rate and oxygen consumption during exercise, which increases your cardiovascular reserve so you can train harder. Speeds recovery time Curcumin is a powerful anti-inflammatory herb. Inflammation is responsible for post-workout soreness and stiffness, and slowing your recovery time. Curcumin can help calm the inflammation so that you can get back to your workout, faster and stronger. Milk Thistle is an herb with antioxidant and anti-inflammatory properties. Studies show that Milk Thistle helps the liver to mediate cell damage caused by the generation of lactic acid and free radicals during intense exercise. Lactic acid and free radicals cause muscle fatigue, interfering with athletic performance. Alpha Lipoic Acid a critical component of the cell's antioxidant defense system. It supports the maintenance of a healthy antioxidant defense system including glutathione. Alpha Lipoic Acid counters oxidative stress and inflammation, and aids in recovery after a workout. Powerful adaptogens fuel performance Athletes worldwide use adaptogens such as ginseng and cordyceps to improve performance and endurance without inducing jitters or nervousness. These two potent adaptogens are shown to boost stamina by increasing oxygen in the blood, thereby enhancing athletic performance. Fights stress Rhodiola, another adaptogen in activ-X, fights stress and helps your body and mind recuperate from physical workouts or stressful situations. Studies show that Rhodiola works synergistically with Cordyceps to improve aerobic performance and accelerate physiological adaptation during physical activity. Free of substances banned in sport Experience peace of mind knowing that activ-X is Informed Sport certified. Considered the global gold standard in sports nutrition quality control, Informed Sport gives athletes and consumers like you the highest levels of confidence and support. Omega Absorb™ Through the power of healthy oils, our award-winning delivery system allows our bodies to absorb the nutrients it needs to improve our health and achieve our wellness goals. Key Ingredients EVENING PRIMROSE OIL ALPHA LIPOIC ACID MILK THISTLE FISH OIL CORDYCEPS  KOREAN GINSENG RHODIOLA BORAGE SEED OIL GRAPE SEED CURCUMIN

activ-X for Men
Elite athlete, weekend warrior, or just on the go? Whether you train for competition or enjoy playing hard and achieving more, you need every advantage to push your body and mind to new limits. activ-X for men is scientifically developed for performance. You'll feel the increased energy as you train harder, maximize endurance, and experience faster recovery. Increase energy Maximize stamina Faster recovery Trusted by professional athletes Omega Absorb™ delivery system View Ingredient Table   Description "More energy" is our #1 feedback! Increase energy and staminaMuch more than a multivitamin, activ-X features essential vitamins, minerals, antioxidants, omega oils and adaptogens to increase staying power. EFA's (Essential Fatty Acids) from fish oil decrease heart rate and oxygen consumption during exercise, which increases your cardiovascular reserve so you can train harder. activ-X contains 250mg of Fish Oil, 600mg of Pumpkin Seed Oil and 50mg of Saw Palmetto Oil. Speeds recovery time Curcumin is a powerful anti-inflammatory herb. Inflammation is responsible for post-workout soreness and stiffness, and slowing your recovery time. Curcumin can help calm the inflammation so that you can get back to your workout, faster and stronger. Milk Thistle is an herb with antioxidant and anti-inflammatory properties. Studies show that Milk Thistle helps the liver to mediate cell damage caused by the generation of lactic acid and free radicals during intense exercise. Lactic acid and free radicals cause muscle fatigue, interfering with athletic performance. Alpha Lipoic Acid is a critical component of the cell's antioxidant defense system. It supports the maintenance of a healthy antioxidant defense system including glutathione. Alpha Lipoic Acid counters oxidative stress and inflammation and aids in recovery after a workout. Powerful adaptogens fuel performance Athletes worldwide use adaptogens such as Ginseng and Cordyceps to improve performance and endurance without inducing jitters or nervousness. These potent adaptogens are shown to boost stamina by increasing oxygen in the blood, thereby enhancing athletic performance. Fights stress Rhodiola, another adaptogen in activ-X, fights stress and helps your body and mind recuperate from physical workouts or stressful situations. Studies show that Rhodiola works synergistically with Cordyceps to improve aerobic performance and accelerate physiological adaptation during physical activity. Free of substances banned in sport Experience peace of mind knowing that activ-X is Informed-Sport certified. Considered the global gold standard in sports nutrition quality control, Informed-Sport gives athletes and consumers like you the highest levels of confidence and support.  Omega Absorb™Through the power of healthy oils, our award-winning delivery system allows our bodies to absorb the nutrients it needs to improve our health and achieve our wellness goals. Key Ingredients PUMPKIN SEED OIL ALPHA LIPOIC ACID MILK THISTLE FISH OIL CORDYCEPS RHODIOLA KOREAN GINSENG GRAPE SEED CURCUMIN